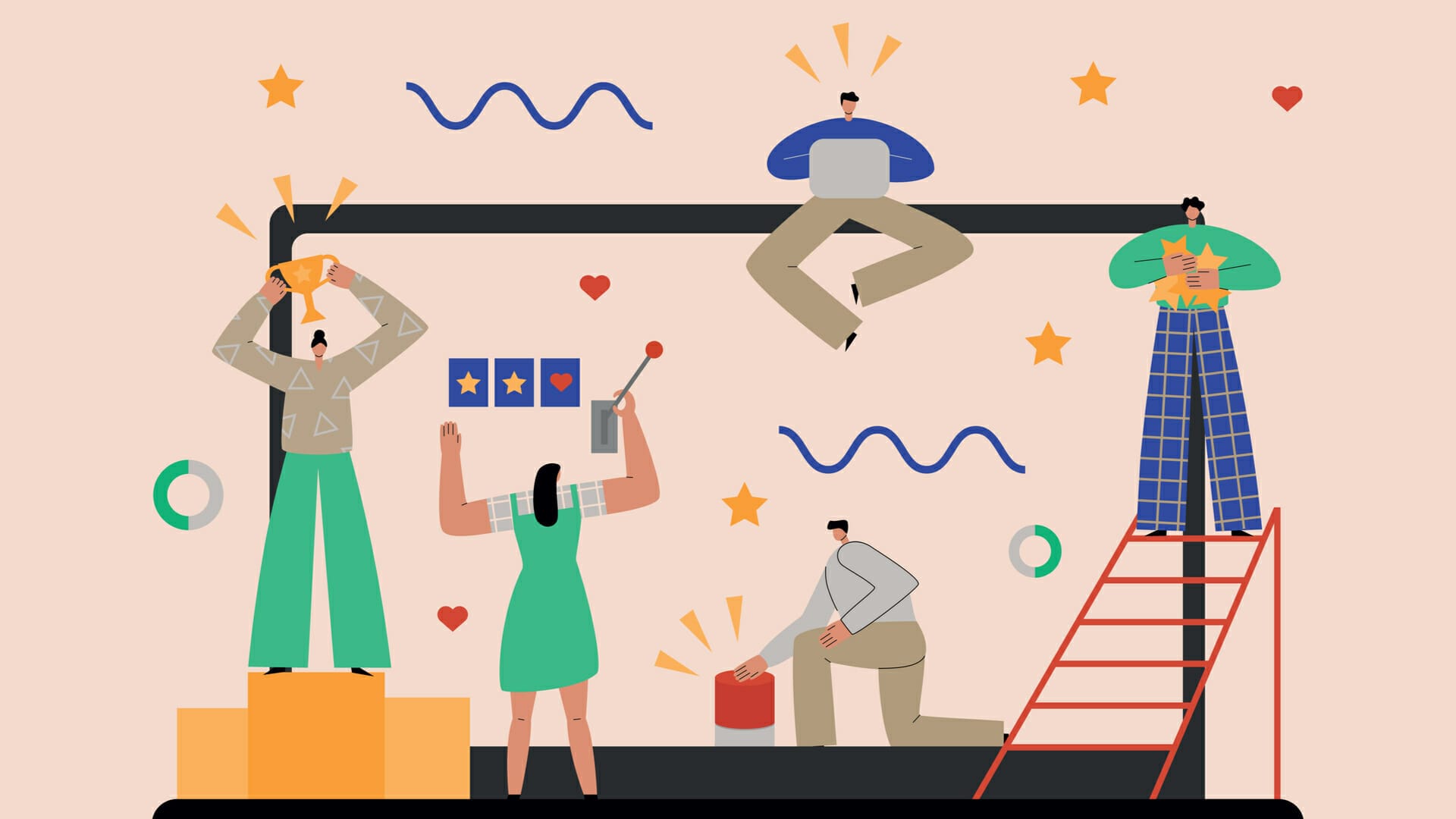 Gamification has been one of the main movements in many aspects of business and education, and it has delivered results for many organisations.
And yet, the idea of gamification is still thought to be about playing games online, mobile phones, or simply having elements of gaming packed into a "gamified" application with badges, leaderboards etc. Those elements are relevant to gamification, but it is more than that.
As learners evolved, what they expected of education or training has also developed. They perceived themselves to dislike education or training, but what has actually happened is their needs have changed. Being exposed to mediums such as YouTube, blogs, and many other forms of information exchange has changed the way learners need to be engaged.
In this article, we will talk about Octalysis Gamification Framework and how this framework can be applied in digital learning.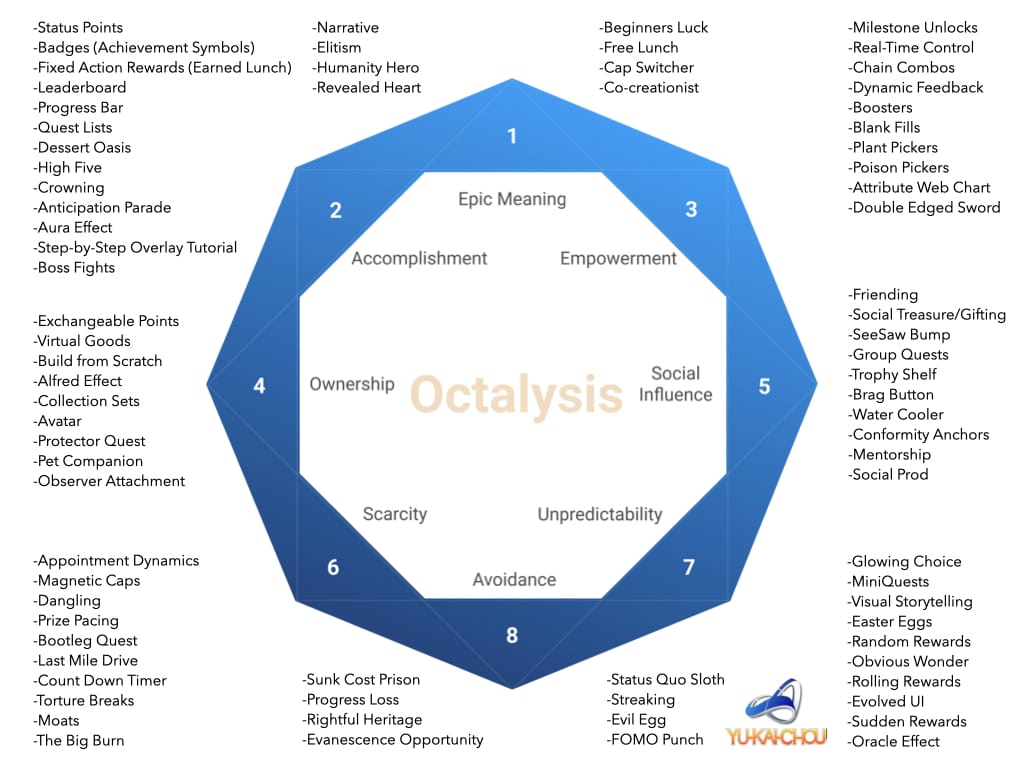 For more information about Octalysis Framework, visit: https://yukaichou.com/gamification-examples/octalysis-complete-gamification-framework/
What is it
The Octalysis framework is a gamification framework that lays out the core drivers for human motivation. A human-focused system looks at a person's motivations to drive behaviours to achieve specific goals.
This gamification design framework was developed by Chou Yu Kai, a leading pioneer of gamification, after observing for years that a function-focused system can only do so much as the drivers to achieve a goal is based on being a requirement as opposed to being a want.
Humans are not machines; they have emotions, which can be an influential factor that impacts behaviour. And based on this, Chou Yu Kai believed that the following eight factors are the key motivators of behaviour.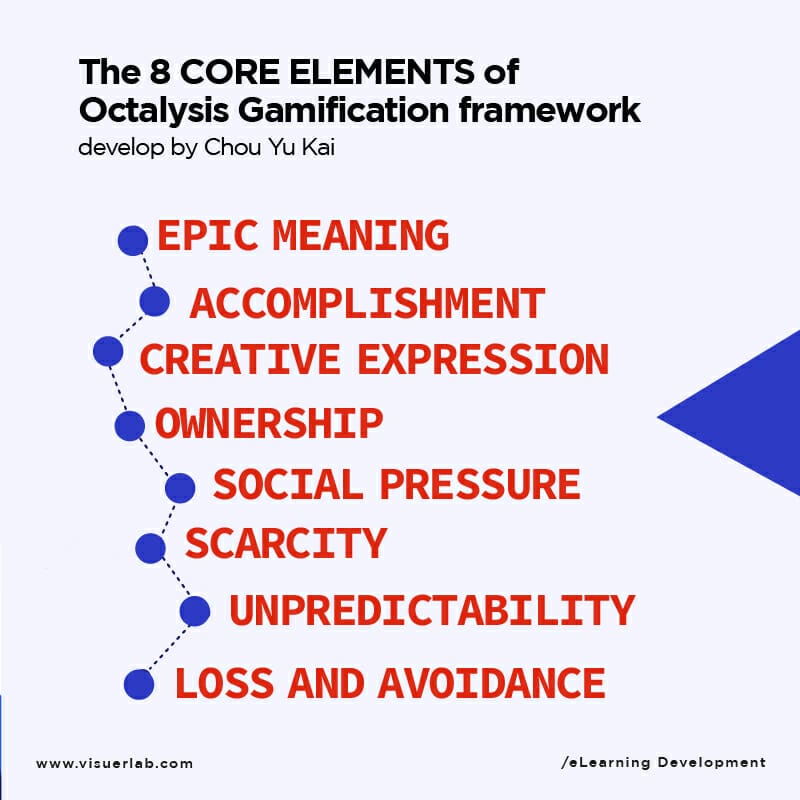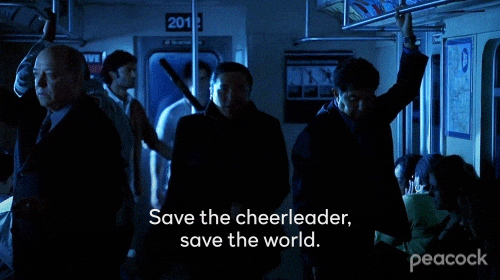 #1 Element: Epic Meaning
The meaning behind what people do matters to them, and gamification often enhances the meaning and purpose of a project or activity. With that, the likelihood of motivation to learn and understand will increases.
Example
Instead of a linear onboarding programme that takes you through the company history to introduce the company's structure, consider building the course like a mountain expedition. Create different stages like a basecamp where learners overcome some challenges to reach the next basecamp, eventually reaching the peak.
In each basecamp, introduce more information about the company, and test the learners on the knowledge of the previous basecamps and the current one. This will create a sense of accomplishment, motivate the learners to continue completing the stages and reinforce what was already learned.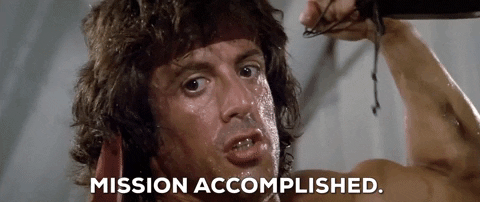 #2 Element: Accomplishment
A sense of achievement can be a significant motivating factor. Learners who see the potential of getting rewarded for their efforts will most often keep working hard and performing their best.
The possibility of achievements can encourage learners to keep working hard and doing their best. For example, if learners can earn a badge for learning new skills, they will most often find the motivation to acquire more knowledge. In eLearning, we can provide visual cues of their accomplishments or progression through one or more of the following means.
– Leaderboards and levels.
– Badges.
– Breadcrumbs or progression bars.
– Points and scores.
Example
Learners can earn and collect rewards like badges upon completing a module or specific actions. These virtual rewards or tokens of personal achievements work best when combined with material rewards. e.g. employees can use these tokens to exchange for a cup of coffee, vouchers etc.

#3 Element: Creative Expression
Learners are provided with the opportunities to engage in a creative process where they have to repeatedly figure things out and try different methods to solve a problem. When they see the result of their creativity, they will feel empowered. This process develops their critical thinking skills; in return, they gain confidence, often for the company's benefit.
Example
Create a mini-quiz that allows the user to utilise a different combination to achieve a certain outcome. A creative branching scenario that allow learners to make decisions and solve the problem in different ways will always enhance their motivation to complete the course or share about the experience.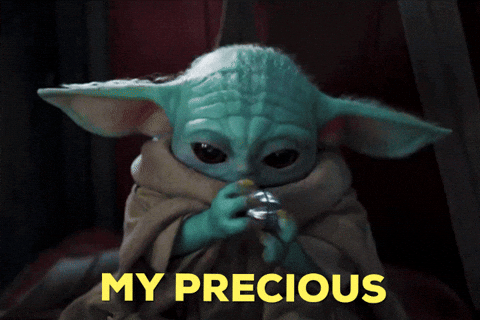 #4 Element: Ownership
A sense of ownership often drives one to work harder on projects or initiatives. Gamification of training can motivate the learners by giving the learners a feeling of ownership. Contextualised gamification can provide learners with a connection and sense of ownership.
Example
An excellent example of ownership is to allow learners to personalise or collect rewards that belong to them along the learning journey. The act of customisation represents time invested and helps generate a sense of ownership, and the customisation also accurately reflects the needs and wants of the learner accordingly.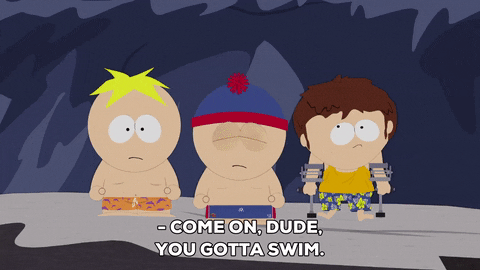 #5 Element: Social Pressure
A critical engagement driver is social connections. The quality of the relationships formed is often an excellent, motivating factor. Seeing the progression of fellow learners will drive the innate sense of competition, and thus, motivate them to do their best. A little friendly competition is always healthy.
Example
Providing a progression table or leadership board for learners to share their progression can serve as a way to motivate them to constantly strive for improvement and advancements.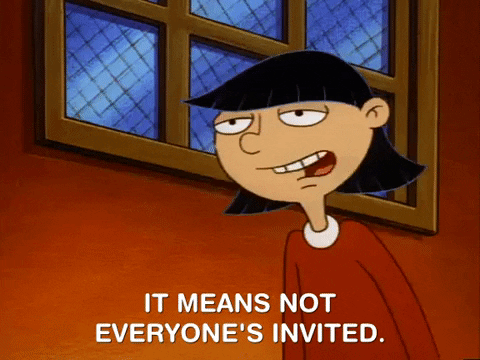 #6 Element: Scarcity
Scarcity plays to the feeling of people wanting what they can't have, and this principle can add value to the gamification of training.
Example
Training modules can be made to be available for only a limited period. During which the learners can have the opportunity to earn special awards related to this time-limited module.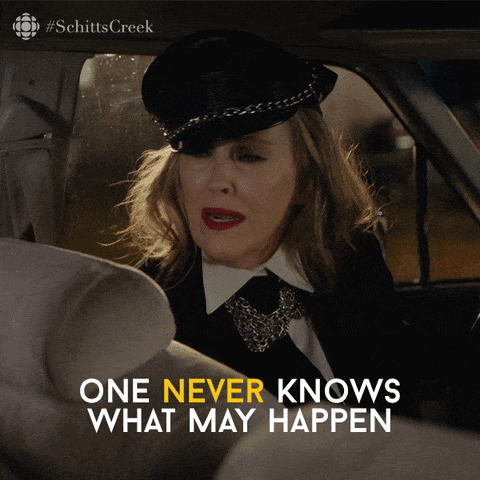 #7 Element: Unpredictability
When gamified training adds unpredictability, it can help engage the learners and motivate them to keep working and pushing on to find out what will happen next.
Example
Incorporate unexpected events or awards at random, which learners can uncover and participate in at various points in their training journey. This will introduce the element of surprise, which will help keep the learners engaged.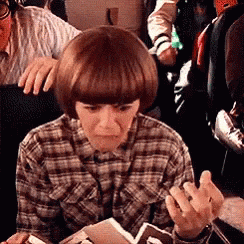 #8 Element: Loss and Avoidance
After putting in much effort into their progress, learners will often feel like they have progressed too far to quit. The learner's invested time can be used as an effective influence to encourage them to continue.
Example
Provide a series of rewards as the learners progress in their training to build up the sense of potential loss.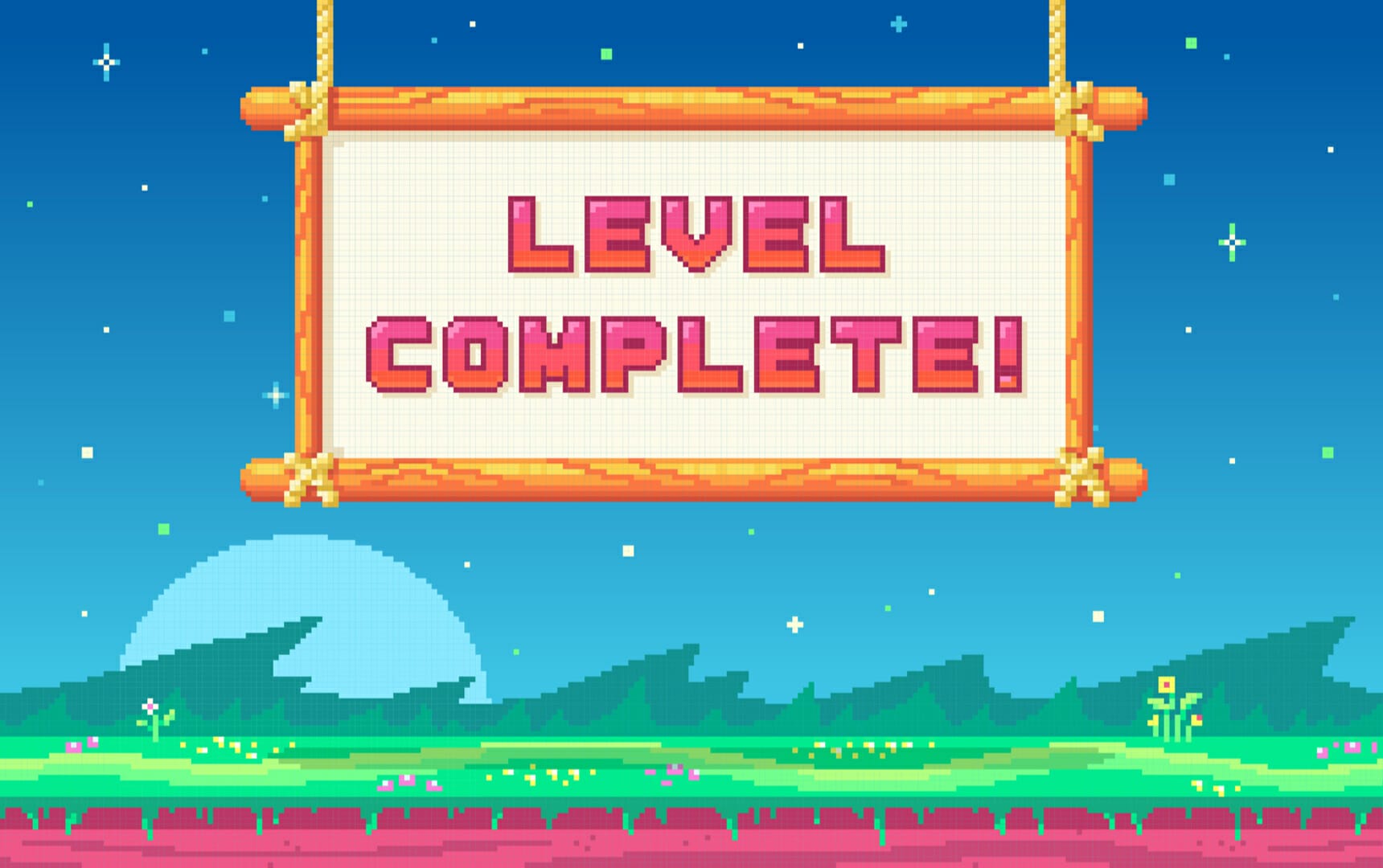 The various elements of the Octalysis Framework can effectively tap into the varied motivations of a learner during training, and the model provides insights into how these elements can serve varied distinct functions.
It also describes how positive and negative feelings can be evoked using different techniques that leverage the particular characteristics of the various elements.
By properly utilising and maximising gamification impact in your eLearning course, it will ultimately deliver the best business outcomes and returns.
View this post on Instagram
Elevate Your eLearning Course with Gamification
Want to learn more about how you can leverage gamification to build a more engaging and effective eLearning course? Reach out to get started on the right gamification strategies and custom courses for your business!
Get in touch with us today to find out more! Drop us an email at [email protected] or click here to get started.